---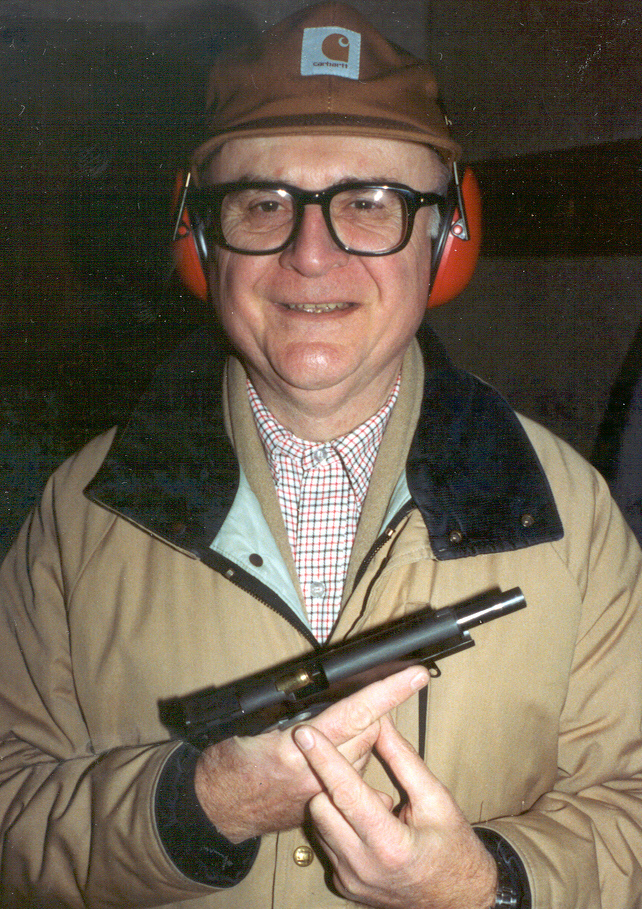 Julius Foris, Jr.
1927-2005
---
FORIS Julius Foris, Jr., age 78, passed away on Monday, October 17th, 2005 at Kobacker House. Born to Dr. Julius and Ida Foris on April 11, 1927 in Guyla, Hungary. He graduated from the English Institute in Heidelberg, Germany and came to the United States in 1951. Julius learned the trade of commercial photography and enlisted in the U.S. Army in 1952, where he served in the Military Intelligence Service in Austria and later in the Ready Reserves. He graduated from The Ohio State University with a B.S. in Chemical Engineering and became certified as a Registered Professional Engineer. Julius retired after a rewarding career with the Ohio EPA in 1990. Photography was his main interest and he shared his interests on the history, development and artistic use of the Leica Camera with the Leica Historical Society, exhibiting his work widely; including at OSU, the Art Institute in Zanesville and was represented in a number of public and private collections including one at the Columbus Gallery of Fine Arts. Julius was published in the British International Annual, Photography Yearbook, Leica Photography and Leica Fotographie. Julius also made artistic contributions to the Upper Arlington Historical Society. Enjoying great lunches with devoted friends and target shooting occupied many happy hours. Julius also served proudly as an usher at his beloved St. Agatha Catholic Church among treasured friends. He is survived by his brother, Anthony Foris and cousin, Aniko Szoke in Denmark. Friends may call Wednesday, October 19th, 2005 at the JOHN QUINT TREBONI FUNERAL HOME, 1177 W. 5th Avenue, from 4-7 p.m. with a Prayer Service at 6:30 p.m. Funeral Mass will be held 10 a.m. on Thursday, October 20th, 2005 at St. Agatha Catholic Church, 1860 Northam Road, Columbus, Ohio. Fr. David Young, Celebrant. Interment will follow at the St. Joseph Cemetery, 6440 South High Street, Lockbourne, Ohio.

Published in The Columbus Dispatch on 10/18/2005.
Sign/Read Dispatch Guest Book for Julius Foris
---
With the photos on this page, it should be obvious that Julius liked to be among his friends, sometimes at the shooting range,
and often in a restaurant!

Julius, Joe, John, Jeff, John, and Darrell
(Outside Cooker Restaurant, 10/6/2002)


Pedro, Julius, Joe, and John
(Der Dutchman Restaurant, 12/16/2003)


Pedro, Unknown "Shooting Babe", Julius
(PCSI Circleville range, April 1991)



Julius
(Cooker Restaurant, 12/30/2000)


Julius and Linda
(Der Dutchman Restaurant, 12/16/2003)



Julius
(Tria Restaurant, 1/21/2004)


Julius, John, Dan
(Powder Room Shooting Range, 5/31/2001)



John, John, Julius, Rita, Jeff, Kenny, Dick
50th Anniversary of Julius' Arrival in America
(Tria Restaurant, 10/9/2001)



Pedro and Julius
(PCSI Circleville Range, "Mud Match", February 1992)




Julius, 1992
I met Julius at the Powder Room Shooting Range in Powell Ohio in early 1992. I was a beginning shooter at 37 years old, and had been reading about all the various kinds of competition in the magazines - Bullseye, Bowling Pins, IPSC, etc. I knew that I wanted to compete, but didn't have a clue what sport I might want to become active in. I began asking at the various gun shops in Central Ohio to find out where some of the various shooting sports were being done, so I could have a look at what was involved, but I had not yet found any information. There didn't seem to be anyone who knew anything about competing with handguns in Central Ohio!
Finally, one Sunday I asked at the Powder Room, and the guy behind the counter pointed at a grandfatherly, mild-mannered gentleman in a chair, saying that he knew something about some shooting matches. That day I met Julius Foris. He quite possibly rescued me from a life as a Bullseye shooter! ;-)
From Julius, I learned about Pickaway County Sportsmen in Circleville, and about the IPSC and NRA Action Pistol matches held there. He offered to let me shoot his .45ACP comp gun at the Powder Room, and in fact, I shot my very first IPSC stage in Circleville using Julius' comp gun (and managed all A-zone hits). I was hooked! After each match in Circleville, we made the obligatory stop to eat at Goodwin's Family Restaurant.
Through Julius, I met Darrell, and Joyce, and Pedro, and Chet, and Ken, and Ron, and all the other folks who came before me in those still-early days of Circleville IPSC and Action Pistol. Because of Julius I met all the hundreds of shooters from around the country who I have shot with and against in competition.
Julius loaned me his old Circleville newsletters, and I pored over the course designs pictured therein to understand what made for an interesting IPSC course of fire. Julius loaned me his old Front Sight and American Handgunner magazines, so I could see where IPSC had come from.
Then I learned about the Dillon Bowling Pin matches from Julius, and rode to many matches with him and with John Kimball, always with the obligatory stop for a meal, often with Dick McCoy.
Saturdays and Sundays when there wasn't a match to shoot, Julius, and John, and John, and sometimes Kenny, and I would shoot early at the Powder Room, and then travel to a nearby restaurant for a meal. That routine lasted through many years and through the closing of a few of our preferred restaurants! When my new job took me away from shooting regularly, I knew that Julius and some assortment of shooters would be off eating after a weekend morning at the range.
Then there were the monthly lunches at Der Dutchman in Plain City, with Julius, and Joe, and John, and Pedro, with Linda and some of the other of Julius' favorite waitresses. There was the meal at Tria on October 9, 2001 celebrating the 50th Anniversary of Julius coming to America. There was the meal when Darrell came back to town to visit. There was the meal when Ted came back to town to visit.
Is there any wonder that so many of the photos of Julius above are taken inside or outside of restaurants?
Julius Foris was a friend of shooters, and a friend of shooting. His legacy in Central Ohio lives on in the memories of his many, many friends.
- Jeff Maass USPSA L-1192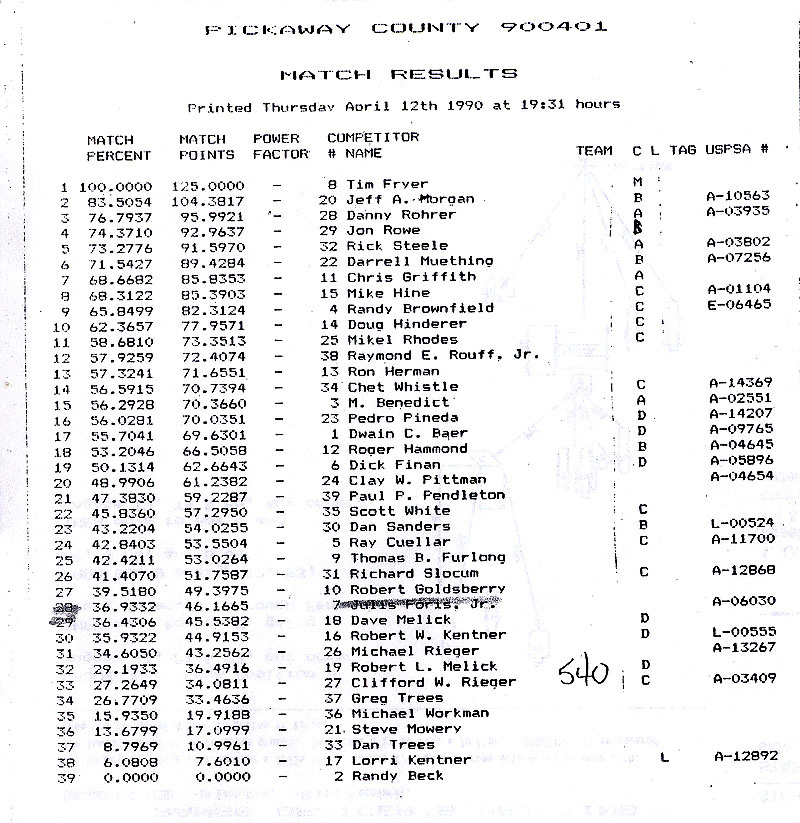 A scan of the results for the very first official USPSA/IPSC match at Pickaway County
Sportsmen in Circleville, April 1, 1990. Julius was an active IPSC and NRA Action
Pistol competitor throughout the '90s, and continued competing in Bowling Pins
and shooting target practice until a few months before his death. This is a page
from Julius' own results newsletter, which he gave me to fill out my collection
of results when I was match Director. Julius was USPSA # A-6030.
---


Webmaster
Last Update: 10/14/06